Information Centric


All those extensions in one simple menu.

Beaconly brings all of your freshly updated, day-to-day information into one easy to use spot, with links, graphs and hand-picked details.
Easy to use


Install, remove, re-order extensions with just a couple of clicks.

We have worked really hard to make our app easy to use. Extensions can be installed with a single click, re-ordered with a natural drag and drop experience, and deleted just as easy.
Extensive


More than 400+ extensions, and counting.

Beaconly provides you with an ever growing palette of extensions for your day to day life that you can use, customize and setup.

Jira Issues, Asana Tickets, Trello Cards and so much more right inside your Beaconly menu.

We work tirelessly every day to build more robust and useful extensions, which you can easily setup and drop in.
Privacy by Design


No data collection on our end. Ever.

We have designed Beaconly to connect to the services and websites you love, but with privacy in mind.

We do not collect any data about you, not even the extensions you install and actively use. All the connections and data calls are between you and the provider of the service you choose to connect to.
All the information you need
Beaconly is the perfect app for your every day use. Whether you are a developer that is trying to stay on top of his workload and tech infrastructure status, or a project manager, student or simply a scrum master. Beaconly ties in unique services you choose into the macOs top bar menu, and lets you see relevant information with direct links in a neat, and easy to use menu.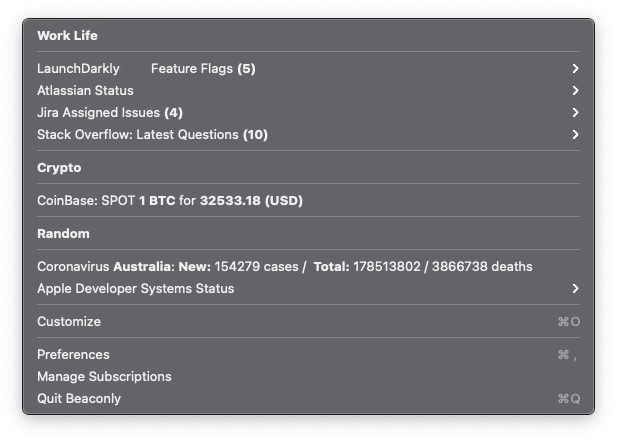 Customize your way
Having over 400+ extensions to choose from can be overwhelming, but Beaconly makes it really easy to manage and visualize information in your top bar menu with:
Simple drag and drop re-ordering
Extension settings with helpful dialogs to guide you through the settings
Search extensions by title, category and description
Install new extensions with ease
Remove or add custom separators, and text titles to give your information structure
and so. much. more …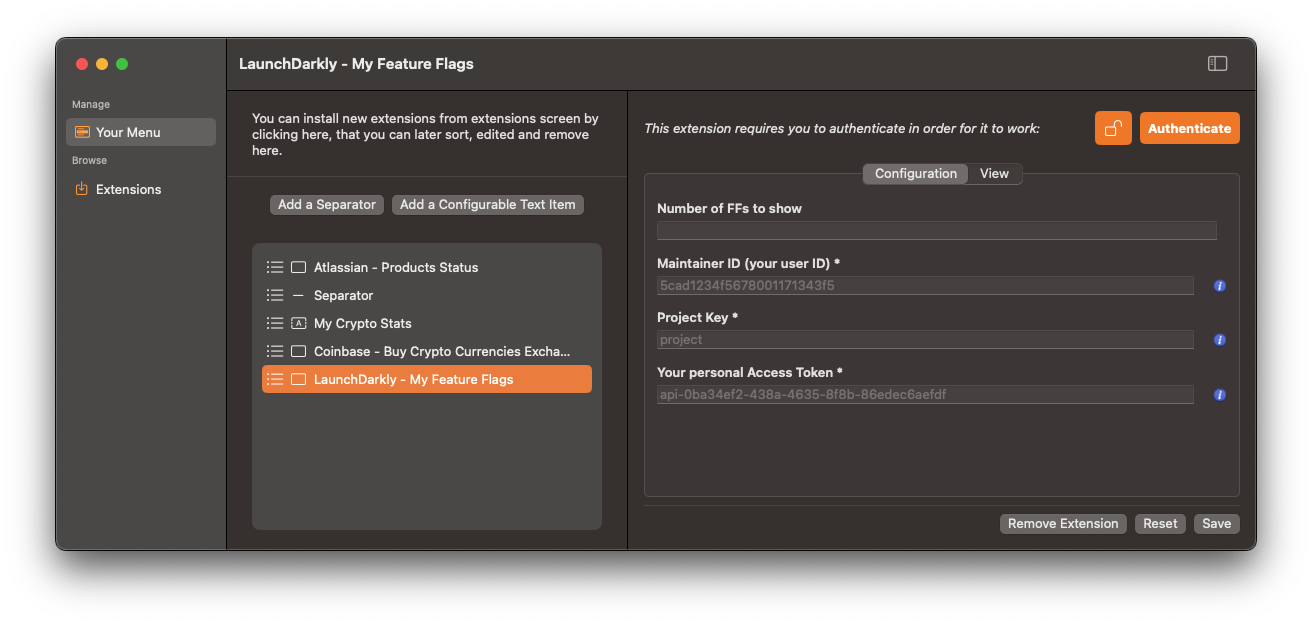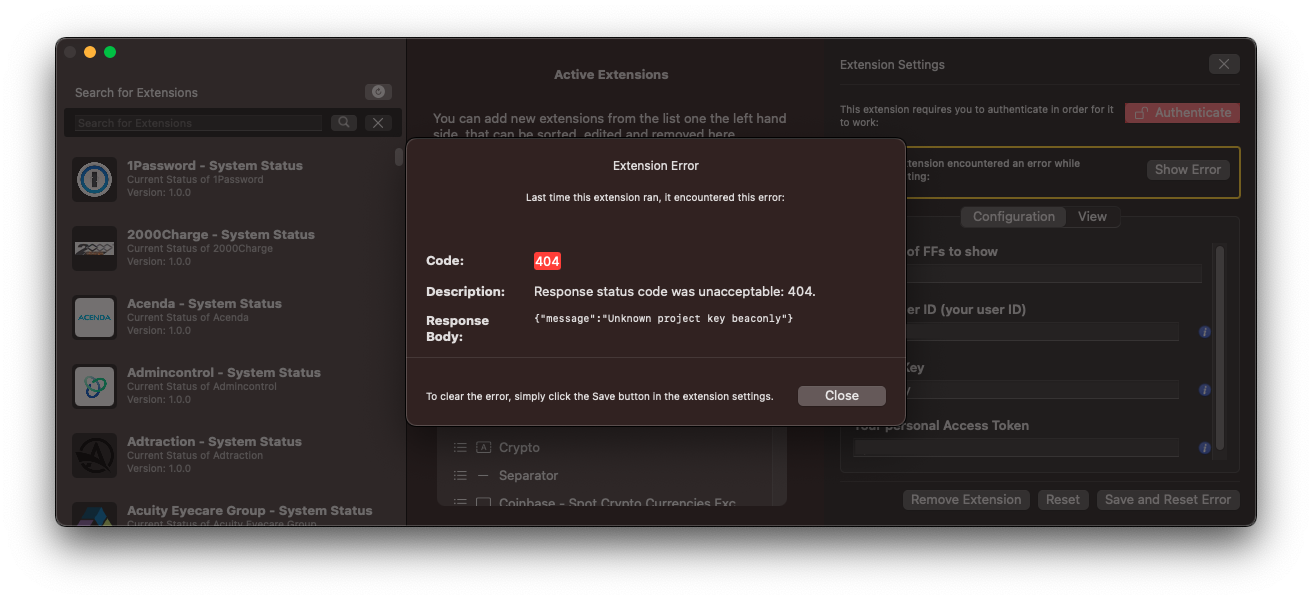 Debugging is hard
Knowing why something doesn't work is hard. Did I setup an extension incorrectly? Is it my API Key that is wrong, or my user id? Beaconly comes to the rescue, with first class error messages, that will help you navigate any problem.
Always helpful Support Team
Small system footprint, as the app uses NSBackgroundActivityScheduler with QualityOfService.utility settings. You can read about it here.
Ability to set any extension "refresh time", which tells the system how often it should capture new data
Fitting in with Dark / Light mode, and using system colors, fonts and sizes to perfectly fit into your macOs
Ability to set Beaconly to start at system launch
Effortless, secure, and private
Extension logos, that help identify what you're looking for at first glance
Regular updates with great upcoming features